COSTA VASIA Seaside Suites and Apartments complex is situated in the most quiet area of Vrahati village. Just a few meters separate you from the sea. The apartment complex consists of
All types of accommodation are brand new and fully equipped. All areas have A/C and smart TV's. The big and modern living rooms connect to their spacious verandas with seaview of the Corinthian Gulf. The ground floor beachfront apartments also have a small garden whereas the two standard apartments only find you with very limited to no sea view but still only a few steps from our lovely beach.
Recently we added to our collection two beachfront private villas
Villa Nina Pinta is situated just 100 metres from the main complex and consists of two apartments that sleep up to ten guests.
Villa Angelos is situated in the beautiful and traditional village called Nerantza 5 minutes drive from our main complex of suites and apartments.
Our properties' amazing sea view is all you need to relax. Our accommodations are ideal for families and small groups of friends. For the more adventurous we have a list of fun activities you can choose from. The apartment and suite complex is open throughout the year offering its facilities and warm hospitality to our guests. You will have the chance to enjoy an unforgettable experience full of unique activities such as boat rides and tour guides in Ancient Corinth and the area around.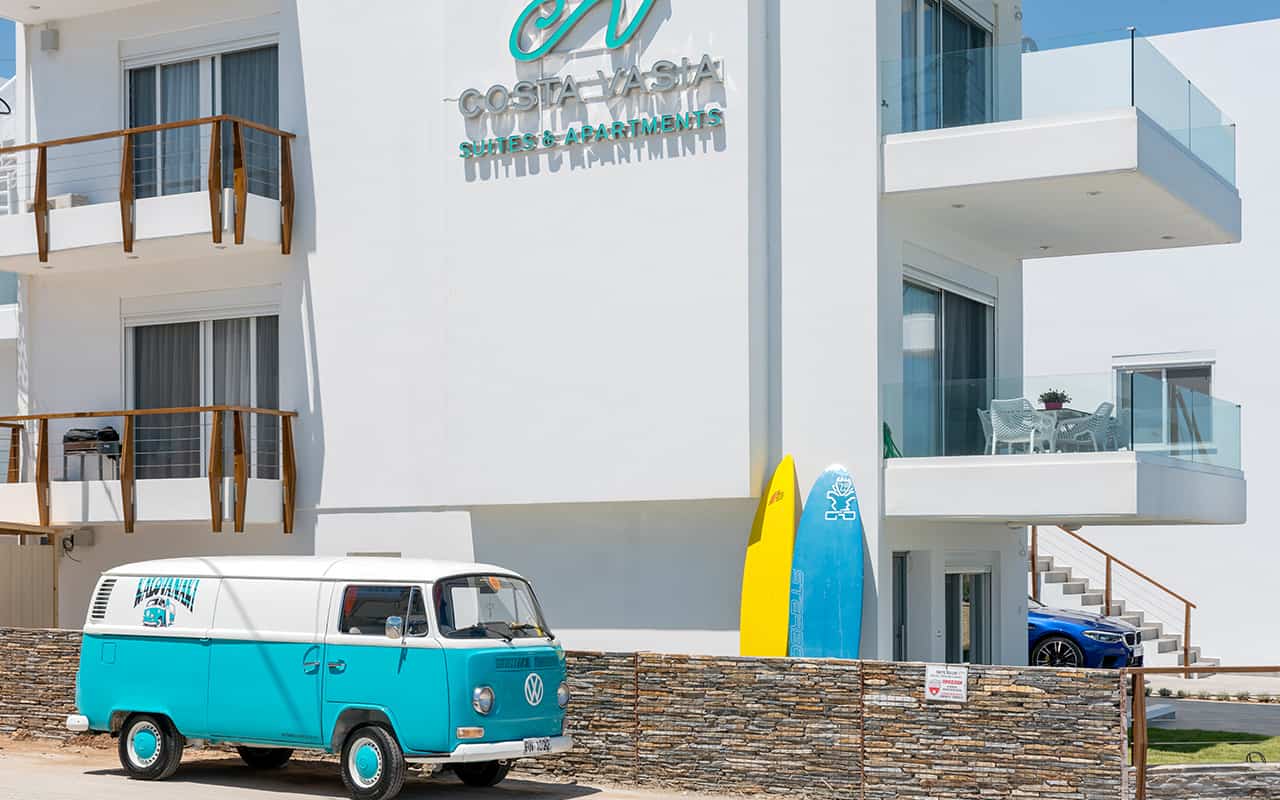 LOCATION & HOW TO REACH US
The accomodation is located in the beautiful village of Vrahati just 10 minutes drive from the city of Corinth and 1 hour and 15 minutes drive from Athens. It is also 20 minutes from Ancient Corinth.
✔ 1 hour and 15 minutes drive from Athens
✔ 1 hour and 30 minutes by train from Athens International airport
✔ 1 hour and 30 minutes drive from Patra port
The amazing beauty of the area and the crystal clear blue waters of the Corinthian gulf along with the perfect accommodation and services of Costa Vasia will make your vacations unforgettable.
USEFUL INFORMATION IN CASE YOU WANT TO VISIT ATHENS
Getting to Athens City Centre from COSTA VASIA is easy.
You only need to get the train from Zevgolatio Proastiakos train station.
It will take you just one hour. Trains depart every hour.
You can then move around using the Metro lines 1,2 or 3.
You can find metro ticket information and prices on the following link: www.athenstransport.com
In addition to the metro there is also a tram connecting the city center to the seaside of Athens.
If you get off at Syntagma Square metro station you can also catch a hop – on hop – off tour bus.
There are three companies operating sightseeing bus tours.
They  are the red, yellow and blue buses and on the links below you can find information on itineraries and timetable for each one of them. www.citysightseeing.gr,
If you plan on getting around by taxi, you can download the app BEAT Ride (formerly known as taxibeat).
A private guided tour to the Acropolis and Athens City Centre can be arranged for you.